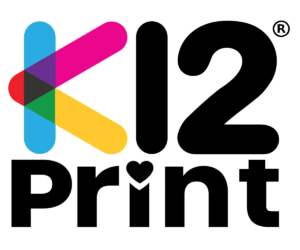 West Palm Beach, Fla. (November 2023)— K12 Print, leading printing company, announces the launch of a new website, designed to provide customers with an enhanced user experience including an intuitive design tool for creating personalized apparel and merchandise. Alongside the website revamp, the company has unveiled a new logo, featuring a heart above the 'i' in the word print, symbolizing its commitment to giving back to underserved children's charities, including the Boys & Girls Clubs.
 With a strong focus on customer satisfaction and a dedication to changing the lives of children, K12 Print has taken a significant step forward in its mission by providing this cutting-edge online platform. The revamped website offers a seamless and user-friendly experience, making it easier than ever for customers to design and order custom apparel and merch.
 Key Features of the K12 Print's New Website: 
User-Friendly Interface: The new website boasts a sleek and intuitive design, making navigation effortless for customers of all skill levels, whether you're a seasoned designer or a first-time user.
·       Digital Tools: Users will love the tools that the new site offers such as the online designer, instant quote feature, save and share functionality and real-time inventory.
·       Improved Customer Support: K12 Print furthers its committed to delivering exceptional customer service with its new site that features a comprehensive FAQ section, live chat and a dedicated toll-free customer support team to assist customers at every step of their journey.
·       New & Improved Products Options: The site offers a fresh new inventory of apparel options from brands that customers love like Nike, Champion, Carhart and more. K12 Print will also be offering an inventory of mugs, canvas totes and many customizable items.
 In addition to the website refresh, K12 Print is proud to unveil its updated logo. The heart above the 'i' in the company's name symbolizes its deep-rooted commitment to making a positive impact on the lives of kids in need. K12 Print is dedicated to supporting underserved children's charities, with a particular focus on organizations like the Boys & Girls Clubs that provide vital resources and opportunities for young individuals. K12 Print is also keenly focused on supporting American jobs in its facility in Riviera Beach, Florida.
 "As a company, we are on a mission to make a difference in the lives of underserved children. Our new logo reflects this commitment, and our enhanced website ensures that our customers have a seamless experience while creating custom apparel," said John DiDonato, K12 Print's President.
 About K12 Print:
K12 Print is a leading custom apparel printing company known for its commitment to quality printed products and its mission to support kids in need through donation and job creation. Learn more about K12 Print and its mission here. For media inquiries or further information, please contact: Jen Gannon, Director of Marketing, jen@k12print.com, 954.806.3654.
###